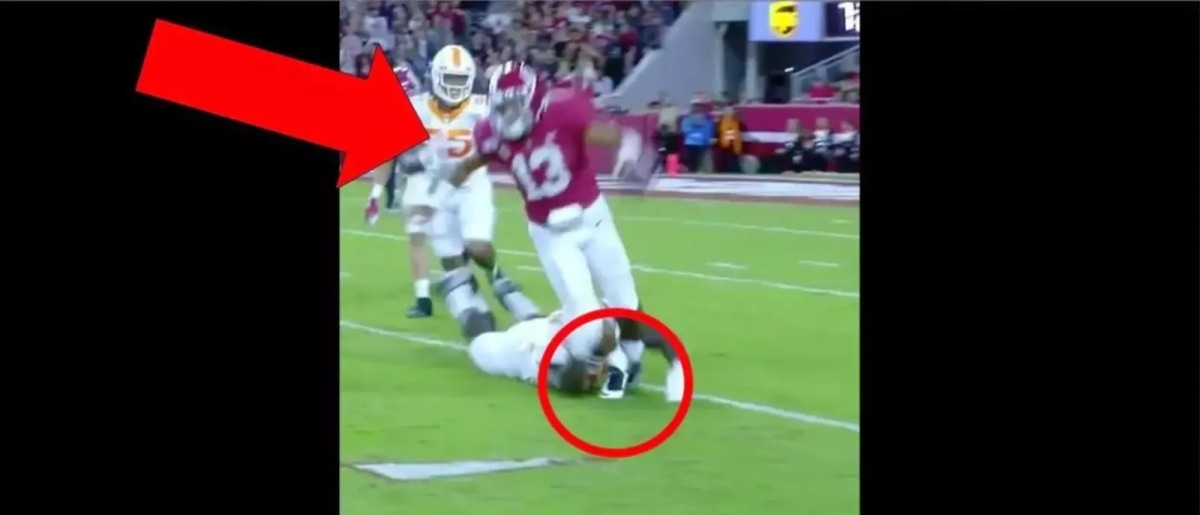 High Ankle Sprain: Not Your Average Ankle Injury
November 5, 2019
Tua Tagovailoa Photo Credit: https://dailycaller.com/2019/10/20/tua-tagovailoa-high-ankle-sprain-out-two-weeks/ (1)
If you've been physically active or played sports long enough, there is a pretty good chance you have sustained an ankle sprain, or several, at some point. Acute ankle injuries are one of the most common musculoskeletal sports injuries. The most common type of ankle sprain is the 'lateral' ankle sprain which occurs from stepping on the outside of the foot or rolling the ankle outward. 'Lateral' ankle sprains usually result in tendinous and/or ligamentous injury along the outside of the ankle. Ankle pain from a 'high' ankle sprain can radiate up the leg more so than a 'lateral' ankle sprain. The bruising and swelling patterns often differ as well.
Two weeks ago, Tua Tagovailoa suffered a 'high' ankle sprain during the second quarter of the Crimson Tide's 35-13 victory over the Tennessee Volunteers. A 'high' ankle sprain, also known as a "syndesmotic sprain" occurs when the syndesmosis (ankle ligaments) that binds the tibia and fibula together is exposed to injury from an extreme outward rotation and/or dorsiflexion of the foot.
This action causes the dome-shaped talus bone that sits between the end of the tibia and fibula to "distract," or push the two bones that are being held together by the syndesmosis apart, and in turn strain or rupture ligaments that bind the ankle joint together. Because ligaments in the ankle usually take longer to heal than tendons, a 'high' ankle sprain has traditionally been a more debilitating injury than a 'lateral' ankle sprain. (2)
Illustration of High Ankle Sprain Photo Credit: https://www.physioroom.com/injuries/ankle_and_foot/high_ankle_sprain_full.php (3)
Typically when an athlete suffers a 'high' ankle sprain the natural tissue healing recovery time frame takes about 6-8 weeks. In the past, a high ankle sprain was considered season-ending injury for many football players who sustained this injury mid-late season.
Five years ago, Alabama's left tackle Cam Robinson suffered a high ankle sprain in a win at Tennessee. According to Sports Illustrated, Robinson was determined to play against Louisiana State University (LSU) in his home state and was one of the first college football players to undergo the "Knotless Syndesmosis TightRope Procedure," performed by Dr. Norman Waldrop. (4)
Click Here to hear Dr. Waldrop describe the "Knotless Syndesmosis TightRope Procedure" procedure and view an animation of surgery. (5)
According to Dr. Waldrop, rehabilitation after TightRope surgery consists of reducing pain, inflammation, and swelling for the first four days. Then the focus shifts to improving range of motion with progression from walking to running within days five to eight. Typically the procedure allows athletes to return to sports between weeks 3 or 4, but Dr. Waldrop states that he allows athletes to progress to tolerance as long as the wound is healing appropriately. (5)
This Saturday Alabama takes on LSU at home for another 'Game of the Century' part II. There is a lot of anticipation and speculation regarding Tagovailoa's status and readiness for the biggest game of the season, as he will only be about three weeks out of TightRope surgery. One thing we do know is that Tagovailoa is surrounded and supported by one of the most elite medical teams in college football. Here's to incredible advancements in the field of medicine and another historical college football game.
Oh yeah and...Roll Tide!
Want to know more about preventing ankle injuries or rehabilitation after ankle injury/surgery? Stay tuned for more information on our blog and follow us on Instagram @physioletept for updates.
References